30 Aug 2014
You might not have heard about it, but the NuPIC mailing lists had to be migrated to a private server recently, so we had a short outage. Once the lists had been moved, I wanted to reengage our community members after a couple day of limited messages, so I asked everyone to introduce themselves, and we're getting some really fascinating responses. The NuPIC community is quite diverse and passionate! You might enjoy reading through some of the responses on each of our lists (look for the topics entitled "We're back in business, introduce yourself!".
Here are some interesting excerpts:
Currently, I am working with a student in collaboration with an expert MD on using NuPIC for analyzing medical vital signs for diagnosis of medical conditions and early warnings on abnormal incidents. We are at the first stages of this work. I will let you know if we get some promising results.
---
Thx Numenta for creating this awesome community.
---
For a while long ago i seriously thought i would be an opera singer, but despite great bass notes i couldn't hit a high G, so that career ended abruptly. And as of yesterday i appear to be a cancer survivor, so yay!
---
NUPIC should be renamed to EPIC:-)
---
I am new to opensource but it is surprising how cool and encouraging the NuPIC community is and it has set a very high standard for opensource communities in my mind. Thanks NuPIC.
---
I'm really excited about what Numenta is doing and will be doing a small presentation about the CLA and NuPIC in my college soon!
---
I regard following the progress of Numenta as the most interesting news available. I wish to someday implement a version of Nupic in a consumer product.
---
I discovered Jeff from his Triangulation interview back in April and have been hooked ever since.
---
I'd say the only thing I don't really understand about HTM is why there is not even more widespread interest for it from the AI community.
---
I was one of the season-of-nupicers this year which was pretty interesting. I made an experimental visualisation library for NuPIC. Which i hope to properly release soon.
---
I have developed a good intuition for the characteristics of our brain and central nervous system as models for IT simulations and the CLA, HTM, SDR concepts together are very brilliant and worth their weight in gold. As it turns, I also apply some data science to some of the data in our systems and I believe that GROK may one day be a good solution for some future applications. For now, this is a hobby I follow with enthusiasm.
---
Then I stumbled on one of Jeff's keynotes online and it blew my mind. Now I'm working to understand/develop/apply HTM, and build the future with you all…
---
By day I lead the Cloud Foundry team at HP, but ever since I saw Jeff speak at OSCON last year, I've been digging neocortical simulations. I'm particularly interested in the realm of procedurally generated content in games and other media, and I hope to do a session about Machines the Tell Stories at SXSW Interactive next year.
---
And lastly, you gotta read this wonderful interaction between a high school student and an elderly Chinese PhD:
Hi, Anthony Liu:

☺, I am this too old, and you are so young !

I had lived at bay area for some years, that is an area creating stories, always.

Xudong.
---
I love this stuff! NuPIC bringing people together from all walks of life FOR SCIENCE!!!! Big thanks to the NuPIC community for being such good people.
Matt Taylor
Open Source Community Flag-Bearer
Numenta, Inc.
08 Aug 2014
We have developed and open-sourced a project called the NuPIC Geospatial Tracking Application, which demonstrates how NuPIC can be used to provide anomaly indications for geospatial data. Specifically, it can accept GPS track information in GPX format and output indications of anomalous activity for each point along the tracks. This could be useful for a number of interesting applications:
Air Safety

Monitor location, speed and trajectory of commercial aircraft

Maritime Domain Awareness

Detect abnormal ship routes or unexpected ports of entry
Spot unexpected travel impediments — weather, malfunctions, piracy

Family and Pet Care

Receive alerts when family members deviate from normal routes or locations
Track teen driving patterns and speeds

Fleet and Professional Driver Tracking

Monitor driver route and activity compliance
Collect anomalous route data to understand traffic conditions or road obstructions

Personnel Compliance and Safety

Monitor employee movements in hazardous industries - mining, public safety, military
Ensure service coverage - security guards, hospitality workers, sales associates

Supply Chain Visibility

Monitor inventory movement through supply chains to identify anomalies and delays
Spot new bottlenecks or service disruptions in delivery networks
You can see a simple tutorial of how to import GPS information from standard GPX files in this video: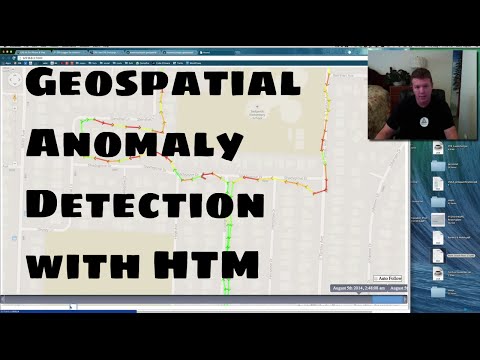 Numenta has also authored a white paper entitled Geospatial Tracking: Learning the Patterns in Movement and Detecting Anomalies, which provides details about our motivation, potential use-cases, and underlying technologies.
At the heart of this new capability is the GeospatialCoordinateEncoder, which converts geospatial coordinate information into a format that is compatible with NuPIC, exposing the characteristics of location information that allows the cortical underpinnings of NuPIC to understand it. In a way, this is analogous to providing a "new sense" of location awareness that we humans currently don't have. For details about how the Geospatial Coordinate Encoder works to encode this data for NuPIC, see the following video by Numenta engineer Chetan Surpur: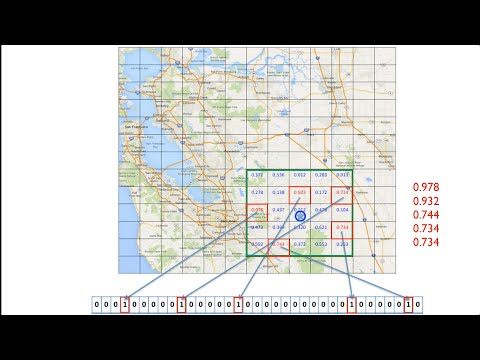 We hope this demonstration of NuPIC's geospatial tracking capabilities inspires others to create more interesting implementations in the fields listed above. The NuPIC Geospatial Tracking Application is really just a showcase, and a simple implementation to demonstrate NuPIC's efficacy in this field.
Matt Taylor
Open Source Community Flag-Bearer
Numenta, Inc.
09 May 2014
We had a great hackathon event this past weekend. This was our third hackathon, and it resulted in the most hackers, the most hacks, and the most productive environment yet. Even if you could not attend, I hope the videos and photographs below help you to understand NuPIC better by example.
Below, you'll find the following:
Sessions: Videos of informational talks given by Numenta engineers
Demos: Hackathon demos presented at the end
Photos: Taken at the hackathon (on Flickr)
Big thanks to Pinger, who graciously donated their space to us for the event!
The hackathon brought in attendees from all over the world. We started at 10AM on Saturday with a kickoff presentation, helped people get NuPIC installed, then held several informational sessions throughout the day. Breakfast, lunch, and dinner were served.
Testimonials
Everyone seemed to have a great time, and most people stuck around through the event (sans some sleep time!) to see the demos at the end.
"Another outstanding event! Thanks Numenta!"

"Learned a ton, great people, great numenta staff, matt++ :)"

"It was great to meet the community and to exchange ideas"

"Comparing with the Fall 2013: 1. More people with serious interest in the NuPIC/Theory, 2. More hacks worked on and presented, 3. Previous "hacks" extended (CEPT!), 4. Theory has made progress towards deeper understanding of brain. Great to see the people from Numenta, the previous event, and new people with practical interest !"

"Really great, even better than in the Fall. Thanks to everyone who worked really hard to make the hackathon go so smoothly, and to all who took part. It was a real pleasure to meet so many smart people, all interested in furthering Machine Intelligence."
Just like last hackathon, we had several presentations from NuPIC engineers for hackathon participants to attend, if wanted. You can also view them all in this playlist.
We had a lot of demos at this hackathon! In addition to the full playlist of all our hackathon demonstrations, I've broken out each hack below with further information about the participants and source code (if available).
This was our most successful hackathon yet. Thanks to everyone who participating in the event, helped out with the planning and execution, and even for those of you watching the videos now. I hope you'll considering attending our next hackathon!
Matt Taylor
Open Source Community Flag-Bearer
Numenta, Inc.
By the way! You can see all the videos and photos taken at this hackathon on our YouTube channel and Flickr page.