24 Nov 2014
Hello NuPICers!
I am introducing a nice tool for the NuPIC community. NuPIC Studio is a powerful all-in-one tool that allows users create an HTM network from scratch, train it, collect statistics, and share it among the members of the community.
It is not just a visualization tool but an HTM builder, debugger and laboratory for experiments. It is ideal for newbies with little intimacy with NuPIC code as well as experts that wish for better productivity. Among its features and advantages are:
Users can open, save, or change their "HTM projects" or of other developers. A typical project contains data to be trained, neural network configuration, statistics, etc, which can be shared to be analyzed or integrated with other projects.
The HTM engine is the own original NuPIC library (Python distribution). This means no port, no bindings, no re-implementation, etc. So any changes in the original NuPIC source can be immediately viewed. This helps users that wish to test improvements like new encoders or even hierarchy, attention, and motor integration.
Source code of the HTM network architecture is automatically generated in order for users to simply copy and paste it into their applications and so consume NuPIC Network API.
The project is pip-installable and for desktop use.
The project's site is: https://github.com/nupic-community/nupic.studio
Enjoy!
David Ragazzi
NuPIC Committer
MSc in Software Engineering (University of Liverpool)
30 Oct 2014
On October 18-19 of 2014, we held our fourth NuPIC Hackathon in San Jose at Pinger, Inc. It was a 36-hour event, starting at 10AM on Saturday, and ending with hack demos at 4PM Sunday afternoon. We started with a Kickoff presentation to go over hackathon protocol, then jumped right into hacking. There were some interesting themes this time. A lot more people tried using cortical.io's word fingerprinting service for natural language processing hacks. We also had a lot of interest in EEG analysis with NuPIC, which seems to be a hot topic within the community. And we even had another robotics demo!
I think I say this after every NuPIC hackathon we host, but this hackathon was the best one yet! We had well over 50 participants, 16 demos, and a ton of fun and community bonding. It was really nice to see some new faces at this hackathon. I love meeting the people of our community!
Once again, we had attendees from all over the world: Amsterdam, China, Austria, Ireland, not to mention from all over the United States. I was really impressed how with each hackathon our community gets a better understanding of NuPIC and how it can be used to tackle many different kinds of problems. Even though we had a high percentage of new hackers this time, I could really see the light bulbs turning on as I talked to people about their hackathon ideas.
I've separated this blog post into sections:
Photos
Testimonials
More people than ever, and a more diverse community than ever. We had pro hackers, students, software professionals, a neurologist, and even some new to programming in general.
"Had an awesome time!! Thanks again to Matt and Scott for helping me so much with getting started with nupic."

"Thanks Matt and the whole Numenta crew for a wonderful weekend. It was a good chance to prototype how NuPIC can be used for wearables."

"Thank you Matt for making this an unforgettable event. I am already looking forward to the next Hack-a-thon!"

"Thanks For hosting the workshop and hackathon Nupic team . Had a great time!"

"I really had a good time. I learned so much and loved seeing the incredible variety of hacks."

"This was inspiring!"

"A fantastic event. It underscores Numenta's approach of being totally open with their work and supportive of the community. It feels like we are at the cusp of a revolution, where a few more good ideas will really make this thing fly."
Sessions
We only gave a few presentations from Numenta and friends for hackathon participants to attend in order to give more time for attendees to work on their projects. You can watch all the recordings we took at the hackathon in this playlist.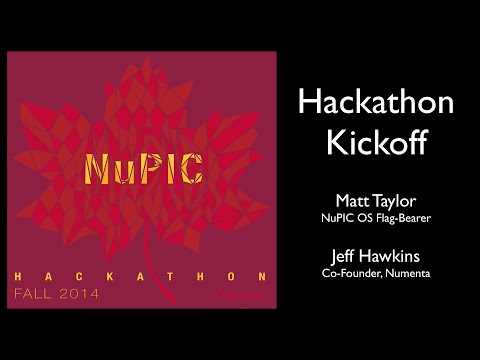 Matt Taylor & Jeff Hawkins
Where hackers are welcomed to the hackathon, protocol is reviewed, and ideas are brainstormed.
Demos
Games, physics, robotics, geology, natural language, geospatial analysis… demos at this hackathon spanned a large breadth of topics. We were really impressed with the types of things hackers attempted to perform with NuPIC. When we have hackathons, it's a chance for people interested in NuPIC and HTM to push the boundaries of HTM technology and really see what it might be capable of. I always come away inspired and excited about the future of NuPIC and HTM, and this hackathon was no exception at all.
Not all hacks are success stories, but each one is a learning experience. We'll never know what can be achieved with cortically-inspired machine intelligence unless we try to solve hard problems.
As the NuPIC community grows, I continue to be awed and inspired by its passion and perseverance. A sincere thank you to all who have participated on our mailing lists, our code repositories, and our hackathons. You folks are the reason we've gone open source, and the reason we continue to thrive. I see a bright future for us, and I truly believe we will lead the path forward to truly intelligent machines built on neocortical principles.
It's not an easy road, but you are the pioneers helping us pave it for the masses that will follow. I had a wonderful time interacting with all of you, and I look forward to even more ground-breaking work at the next hackathon in Spring 2015.
Matt Taylor
Open Source Community Flag-Bearer
Numenta, Inc.
By the way! You can see all the videos and photos taken at every hackathon on our YouTube channel and Flickr page.
30 Aug 2014
You might not have heard about it, but the NuPIC mailing lists had to be migrated to a private server recently, so we had a short outage. Once the lists had been moved, I wanted to reengage our community members after a couple day of limited messages, so I asked everyone to introduce themselves, and we're getting some really fascinating responses. The NuPIC community is quite diverse and passionate! You might enjoy reading through some of the responses on each of our lists (look for the topics entitled "We're back in business, introduce yourself!".
Here are some interesting excerpts:
Currently, I am working with a student in collaboration with an expert MD on using NuPIC for analyzing medical vital signs for diagnosis of medical conditions and early warnings on abnormal incidents. We are at the first stages of this work. I will let you know if we get some promising results.
---
Thx Numenta for creating this awesome community.
---
For a while long ago i seriously thought i would be an opera singer, but despite great bass notes i couldn't hit a high G, so that career ended abruptly. And as of yesterday i appear to be a cancer survivor, so yay!
---
NUPIC should be renamed to EPIC:-)
---
I am new to opensource but it is surprising how cool and encouraging the NuPIC community is and it has set a very high standard for opensource communities in my mind. Thanks NuPIC.
---
I'm really excited about what Numenta is doing and will be doing a small presentation about the CLA and NuPIC in my college soon!
---
I regard following the progress of Numenta as the most interesting news available. I wish to someday implement a version of Nupic in a consumer product.
---
I discovered Jeff from his Triangulation interview back in April and have been hooked ever since.
---
I'd say the only thing I don't really understand about HTM is why there is not even more widespread interest for it from the AI community.
---
I was one of the season-of-nupicers this year which was pretty interesting. I made an experimental visualisation library for NuPIC. Which i hope to properly release soon.
---
I have developed a good intuition for the characteristics of our brain and central nervous system as models for IT simulations and the CLA, HTM, SDR concepts together are very brilliant and worth their weight in gold. As it turns, I also apply some data science to some of the data in our systems and I believe that GROK may one day be a good solution for some future applications. For now, this is a hobby I follow with enthusiasm.
---
Then I stumbled on one of Jeff's keynotes online and it blew my mind. Now I'm working to understand/develop/apply HTM, and build the future with you all…
---
By day I lead the Cloud Foundry team at HP, but ever since I saw Jeff speak at OSCON last year, I've been digging neocortical simulations. I'm particularly interested in the realm of procedurally generated content in games and other media, and I hope to do a session about Machines the Tell Stories at SXSW Interactive next year.
---
And lastly, you gotta read this wonderful interaction between a high school student and an elderly Chinese PhD:
Hi, Anthony Liu:

☺, I am this too old, and you are so young !

I had lived at bay area for some years, that is an area creating stories, always.

Xudong.
---
I love this stuff! NuPIC bringing people together from all walks of life FOR SCIENCE!!!! Big thanks to the NuPIC community for being such good people.
Matt Taylor
Open Source Community Flag-Bearer
Numenta, Inc.